Towed Water Sport Lessons & Activities
Ski-Mazing Water Sports School offers a range of lessons and services tailored to your needs, including instruction in waterskiing, barefooting, wakeboarding, wakeskating, wake surfing, and knee boarding!
Whether you are a first time skier or an experienced rider looking to get some time on the water, our friendly WSWC certified instructors will help you get your feet wet!
Mobile Users, please rotate screen to landscape to view pricing
Passengers: We welcome aboard up to 2 passengers to act as "spotters". Additional passengers @ $5.00 p.p. at driver's discretion.
Tubing and Banana Boat Rides:
15 minute ride (minimum 2 for tube, minimum 3 for banana)
$25 per person
Coach Only at Your Dock – Pro Coach at your dock using your boat, and select items of our gear. $75 per hour plus travel time and gratuity.
Custom Cottage Clinics / Private Parties
$225 per hour plus travel time relative to your location. Includes our premium towboat with all the gear, gas, and Pro Coach. Minimum 6 hour booking required with a 50% deposit required. Subsequent hours are offered at a reduced rate. We will customize to your needs. Give us a call today for a quote!
Please note: Program rates include all necessary equipment, certified coaching and instruction, fuel, insurance and applicable taxes. All rates are subject to change without notice. Fluctuating fuel prices may affect pricing.
What should I consider when
choosing a good ski school?
The coaches – Years of coaching experience, boat driving experience, certified and insured by Waterski Wakeboard Canada, areas of expertise, competitive background and credentials, water sports industry contributions, patient personality and maturity, child centered.
The programming – Generous time frames for beginner lessons, packages with discounts for multiple, lessons or pulls, flexible hours, customized to suit age and skill level, beginner to advanced programs.
The safety – Compliance with Transport Canada boating regulations, professional quality PFD's, track record, risk management plan, current First Aid and CPR training
The equipment – Modern, well maintained, high quality brands, suited to appropriate skill level
The boat – Versatile tournament level towboat for all disciplines, suited to skill level, equipped with training boom and tower, specially equipped for children and beginners, wake is suited for activity and skill level, adjustable wake, make sure wake is not too big for beginners ie: large intimidating wake
The ownership – The owner is a certified coach, hands-on participation in the school, member of Water Ski Wakeboard Canada and Water Ski Wakeboard Ontario, grass roots involvement in organized water sports, skill development minded, loves kids.
About Your School
When choosing Ski-Mazing Watersports School for yourself or your children, you are choosing all of the best attributes listed above. Above all else, you are choosing experience, and experience speaks volumes when it comes to your safety, and the accelerated progress and achievement you will make when learning from an experienced coach. At SMWS, our coaches are mature, with many years of boat driving and water sports coaching or competitive level experience. They have the patience and understanding to relate to all ages and abilities, and have your success and safety in mind.
About The Owner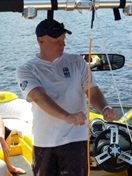 Craig spent every summer at the cottage with his family. He learned to water ski at the age of five and today has taught his own children to ski at the age of three. Craig has trained with world champion skiers, wakeboarders and barefooters and has competed in tournaments from an early age. His lifelong dream was to operate a ski school and in 2003 opened Ski-Mazing Watersports School. He operated the school at Wigamog Inn Resort, Bonnie View Inn and Red Umbrella Inn to provide water sports services for guests and local visitors. The school grew in to a full service watersports company with kids day camp lesson programs, equipment retail, jet ski rentals, pontoon boat cruises and weekly ski shows. Throughout the growth of the school, Craig volunteered as the VP for Ski Schools, Clubs and Camps for Water Ski Wakeboard Ontario for many years, and served as an Examiner at Water Ski Wakeboard Canada's Instructor's Course. Not long after the school began, Craig enrolled his entire team in the SkiAbility Facilitators course to be able to offer water sports lessons to physically and mentally challenged participants.
Craig continued to contribute to the water sports industry by serving on the development committee for the Rip & Ride program issued by Water Ski Wakeboard and the Long Term Athlete Development Program. Craig was also selected to be the spokesperson for the national launch video production for Rip & Ride. With a passion for water sports and excellence, Craig has been trusted by parents to care for and coach their children, deliver value with memorable experiences, and operates his business with the credentials and integrity needed to have people come back again for more skills and thrills.