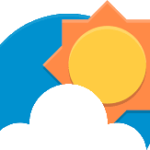 You may be surprised that you won't find links to various weather forecasting services here. That's because we don't believe them, we don't follow them, and we certainly don't look at long range 14 day forecasts that say it is going to thunderstorm 10 days from now!
After being in a weather dependent business for over 20 years, we have learned that the only forecast that matters is a 24 hour forecast! We also know that even those forecasts can be wrong. And don't you wish that you could have a job like the weatherman; where you can be wrong all the time and never get fired?!
If you see those little icons showing clouds, and rain and lightning, should you believe that is all going to happen to you when you want to play with us? No! And remember that those icons don't tell you when it might happen! It could happen in the middle of the night when you are sleeping! An hourly forecast 12 hours in advance is about as close as you're going to get to being accurate.
So our advice is to plan your fun, reserve with confidence, and don't follow those ridiculous weather apps on your phones! We have fun rain or shine, all the time! Don't call to change your plans based on a forecast. Our cancellation policy is 24 hours notice – for a reason!
We hope you have enjoyed our satirical lesson on the weather!
Team SMWS